From Small Diamonds to Estates…
Do you remember your first tree house? The place where you took all of your engineering knowledge and building skills to design and build that one special place…..A place that everybody came over to help and play in, your first "wood" home….The place that was "yours"…..The place where everyone "hung out" to trade baseball cards, make peace with the Cowboys and Indians, a very special place to get away…your first refuge! Times haven't changed. For almost 30 years, Badger Brothers have been designing and building the same dreams for their customers, only on a slightly different scale.
Hello and Welcome. We are the Residential Division of Badger Brothers, a unique luxury log homes, custom log homes, mountain homes, timber frame homes, post and beam homes, handcrafted log homes, and hybrid homes design/build company. We call these one-of-a-kind refuges Homes of Natural Distinction™ featuring Badger Brothers Natural Designs™ and Badger Brothers Natural Materials™. We would personally like to thank you for your time and interest in our company and the very unique products and services that only we can supply.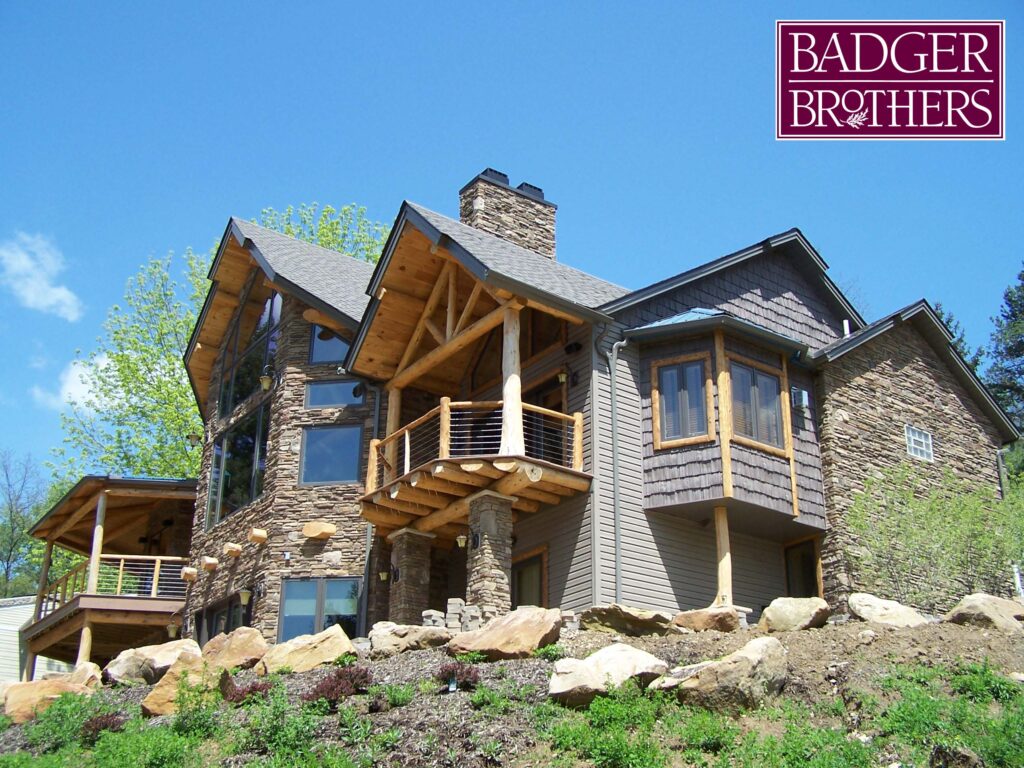 Lifestyle
Our customers desire a custom luxury log home, timber frame home, post and beam or, the combination of any and all of these that usually blend open floor plan elements with intimate, humanly proportioned spaces. You want a one-of-a-kind design Badger Brothers Design. You want a home with grand majestic cathedral ceilings, warm and comfortable. You want great ideas that look and live wonderfully that also eliminate wasted spaces and meet the practical needs like having enough storage right where it is needed. You want to enjoy the outside inside and the inside outside, creating direct visual and personal access to their many views, patios & decks. You want excellence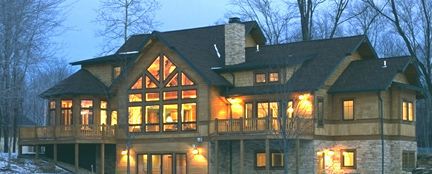 This must be a place where they will feel comfortable in your favorite blue jeans or after having just enjoyed a day skiing, riding, fishing or hanging out with friends or family. You love craftsmanship, the beauty of natural wood and the use of natural materials (without the maintenance). You want to be limited only by their imagination. And sometimes, within all of this, there might be a theme of family or personal nostalgia or even whimsy. In short, you want a refuge, "your" refuge, designed exclusively to suit your land, your lifestyle and your tastes.
That is what we do, from visiting your site, integrating your lifestyle with your dreams to putting the final touches on every hand crafted item throughout the entire home, we help realize your vision come true. Our customers want a single point of accountability from the design phase through the completion of the project. Many are environmentally conscience, concerned about sustainability, and energy efficiency in the design and the building of their home, to even have their home "LEED" Certified. At Badger Brothers, we make the vision and requirements of your special home a reality, with integrity, and handcrafted just for the way you live.
We thank you and invite you to call me at 440-915-8440 or fill out the short form on the Contact page to start a dialog. Let's see if we are right for each other.
Warmly,
Jeff Badger
"We were so pleased with the outcome of our beautiful home. After wasting $100,000 and many months with an Architect, in a matter of a few hours having dinner with us, Jeff had sketched out our perfect home that had everything we wanted. He listens well."

– Bob and Sharron